Flat Fee MLS Listings Can Make
Selling Your Home Less Costly!

If you are a homeowner who winces at the thought of offering a typical 5%, 6% or 7% commission fee, you may want to take advantage of one of our limited-service discount options.
Listings Real Estate offers affordable discount options, where we charge a small flat fee to list your property on the MLS with bare bones support or charge a higher fee plus low commission (still relatively discounted from the traditional fee structure) for more substantial assistance.
What is the Multiple Listing Service (MLS)?
The Multiple Listing Service is a data-base (usually owned by the Local Board of Realtors) of all homes listed with participating Realtors in that area. The listings contain all the details on each property including the availability of compensation to the agency who brings the buyer and sells the home. Other details may include number of bedrooms, baths, garage, etc. Also showing instructions for agents to follow for showings. The vast majority of homes sell through the Multiple Listing Service. It is the FIRST place many agents look to find homes to show their buyers. Selling agents are usually interested in their compensation for procuring a buyer. In the transaction, they have no economic interest in what the seller is paying the listing agent. This plan is great for all sellers, not just FSBO MLS or By Owner MLS sellers.
How Flat Fee MLS Works
Flat fee MLS (a.k.a For Sale By Owner MLS or limited service MLS) is a term used to describe a practice in the real estate industry in which realtors place pertinent information about a property for sale into the database of the local Multiple Listing Service (MLS) for a set fee or dollar amount as opposed to a commission based on the contract selling price of the property. The seller's home is essentially marketed on the internet for a specific period of time (or until sold) for this one time flat (or fixed) fee.
The arrangement between the real estate broker and the property owner ("seller") typically requires that the parties enter into an exclusive-agency listing agreement, a listing contract under which the owner appoints a real estate broker as his or her exclusive agent for a designated period of time to sell the property, on the owner's stated terms. The owner reserves the right to sell without paying a commission if he or she sells to a prospect who has not been introduced or claimed by any specific broker. In return, the seller will be required to pay the listing broker a flat fee for his/her limited services provided.
This essentially reduces contractual risks between the seller and the listing broker, since the seller is free to sell (or otherwise transfer title to the real property) to any person procured by the seller (i.e. someone who is not represented by a "Buyer's Broker") without having to pay a brokerage commission or penalty. The net effect is to limit brokerage services provided, thereby giving the seller greater control and flexibility at significantly reduced costs.
In this instance, the flat fee that the seller pays replaces the much higher listing fee, usually 2.5% to 3.5% of the sales price, that is otherwise paid if the seller were using a full service listing broker in his/her local area. As a result, the seller will not pay the listing broker additional service fees that are typically based on the contract selling price. If a buyer's agent is involved in bringing a buyer to you, you still pay a commission to that agent as you would in a traditional real estate transaction. If our agency procures the buyer, we would get the commission you agreed to. If you find the buyer, you pay nothing. If you, the seller, desire help to complete the contract through closing (end services – buyer pre-qualification, contract negotiation, closing paperwork, etc.), it will only cost you 1% of the purchase price.
The nice thing about flat fee is that throughout the whole process, you retain the right to sell your home yourself and save money!
Please note: In all cases, where the property is "listed" in the MLS for a flat fee, the seller must offer compensation to a "Buyer's Agent", typically 2.5% to 3.5% of the selling price. This fee is paid to the cooperating broker (or agent) for producing a bidder or purchaser, when (and if) the transaction results in a successful sale and closing of escrow of the property.


Benefits
You, the seller, control the listing. There's no agent pressuring you to change your price when you don't want to. And buyer agents contact you directly for showings…that means no middleman!
You can save thousands. With that much in savings, you could take a vacation, buy a new car, or pass the savings on to your buyers to undercut the pricing market (your competition), and sell your home even faster!


Traditional vs. Flat Fee – How Much Do You Really Save?
Traditional Real Estate
In a traditional real estate transaction, you would pay an average of 6% commission at closing to your agent. For a $500,000 home, that's $30,000 of your equity!
If the buyer also has a real estate agent, this 6% commission is traditionally split evenly between your agent and the buyer's agent. Note the full 6% commission must be paid, even if you find the buyer for your home, such as a co-worker, friend, or relative.
Flat Fee MLS Only Listing with Listings Real Estate
With a flat fee listing, instead of paying the full 6%, you pay just a low flat fee of $599 to $799 (Current Special: $299 to $499) upon listing (see Flat Fee Pricing Chart below for details).
When your home sells, one of two things happen:
1) If your buyer has an agent: Instead of paying 6%, you pay a much lower commission, usually around 3%. Looking at that same $500,000 home, that's a $15,000 savings.
2) If your buyer does not have a buyer's agent: You just saved even more, because there is no commission to be paid. For the same $500,000 home, that's a $30,000 savings!
The Power of the Internet with Your Flat Fee Listing

After you add your listing to the MLS, ListHub
distributes it to the most recognized real estate
search engines on the web. ListHub at work!
Large numbers of buyers will be redirected to
your MLS Website Listing Details Page. Leads
that are generated through ListHub are
provided to you, the Seller! Your listing will
be subject to appear on these sites: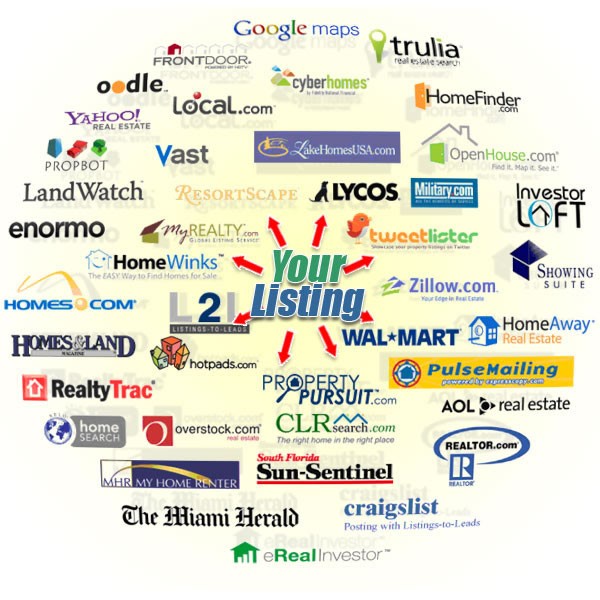 The ML S Will Maximumize Your Chances of Selling Your Home More Quickly At A Better Price! We Give You The Benefits of Being On The MLS Without Paying A High Commission…