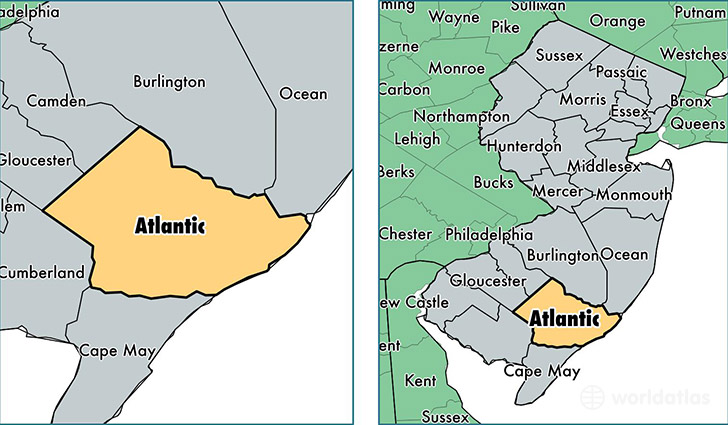 History of Atlantic County
In 1664, Charles II of England granted his brother, James, Duke of York, the land between the Hudson and Delaware Rivers. James presented the land to two favorites: John, Lord Berkeley and Sir George Carteret. He named the new land Nova Caesarea. Today the boundaries of Nova Caesarea (New Jersey) are exactly as set about in the original Duke of York's deed.
Southern New Jersey was the home of the LENI-LENAPE Indians. It was explored in the 16th century by Dutch, French, Swedish, Finnish and Portuguese sea captains. The first survey was made by Henry Hudson in 1609. Cornelius Jacobsun Mey sailed into Little Egg Harbor in 1614 and later charted the coastline.
Early Settlers
The first settlement in Atlantic County was in Somers Point. In 1693, John Somers, a member of the Quaker Society of Friends, was appointed by the Cape May County Court as supervisor of roads and constable of Great Egg Harbor. The following year, Egg Harbor was made a part of the Old Gloucester County. At that same time, a ferry was established from Beesley's Point to Somers Point. In 1695, John Somers purchased from Thomas Budd, 3000 acres of land around Somers Point. Also purchasing land from Mr. Budd were John Clement, Jonathan Adams, Paul Scull, Jonas Balentine and Peter Conover.
Daniel Leeds, our first surveyor, made extensive surveys of Egg Harbor in 1698, thus founding Leeds Point. A descendant of his, Jeremiah Leeds became the first permanent resident of ABSECON ISLAND and later acquired title to nearly all of Atlantic City. His son, Chalkley Leeds, became the first mayor of Atlantic City. George May settled in Mays Landing in the early eighteenth century. Thus, Mays Landing was named for George May not Cornelius Jacobsun Mey.
Master Commandant RICHARD SOMERS became a naval hero and is buried near the walls of Tripoli. A member of the well-known Lake family of inventors from Pleasantville, U.S. engineer SIMON LAKE invented the first submarine.
Many of the early settlers were whale men. Shipyards, mills, iron furnaces and brick yards were all active in the region. SHIP BUILDING became a major industry. Prior to the Revolutionary War and War of 1812, numerous ships reached our beaches. Southern New Jersey was developing a cultural and social life all its own.
A New County
As early New Jersey settlements grew and developed, each had their own unique identities. These settlements included: BRIGANTINE, HAMMONTON, PLEASANTVILLE and EGG HARBOR CITY. In February of 1837, Atlantic County (formerly known as Egg Harbor) was carved from Gloucester County with boundaries that have remained substantially the same to this date. The county is bounded on the north by the Mullica River; on the south by the Great Egg Harbor Bay and the Tuckahoe River; on the west by Camden and Gloucester Counties; and on the east by the Atlantic Ocean.
FUN FACTS OF ATLANTIC COUNTY
Atlantic County's First Railroad
February, 1851 - In a notion many of the time branded as the "Railroad to Nowhere", one determined man is most credited with bringing the railroad to Atlantic City and county. That man, Dr. Jonathan Pitney, is often referred to as "the father of Atlantic City". It was Dr. Pitney who first saw the possibilities of Atlantic City as a premier resort city.
A native of Mendham, NJ, Dr. Pitney settled in Absecon in 1820. His home still exists on Shore Road. Recently refurbished, it operates today as a bed and breakfast. Finding time between treating patients, Dr. Pitney took an active role in the area's civic life.
He was postmaster and recorder of shipwrecks. He led the fight to have Atlantic County divorced from Gloucester County in 1837. He was Atlantic County's delegate to the State Constitutional Convention in 1844. He ran for Congress in 1848.
Dr. Pitney shared his idea with General Enoch Doughty, a successful merchant and landowner. Meeting in Doughty's store on Shore Road in Absecon, they wrote the first draft of a railroad company charter.
One year later, in early March, 1852, New Jersey granted the Camden and Atlantic Railroad Company a charter to operate a railroad to Atlantic City.
There were fifteen stations between Camden and Atlantic City. The railroad, true to the promise of Dr. Jonathan Pitney, created a land boom. Most of all, the railroad brought Atlantic City within the reach of Philadelphians, who no longer needed to endure an all day ride in an open stage coach to reach a bathing beach.
Today, Dr. Pitney's dream, derided at the time as a "railroad to nowhere", has helped make Atlantic City and county the world's most visited tourist destination.
Atlantic City's First Boardwalk - June, 1870
This is a copy of a page from the Library of Congress (LOC) website. It was featured on the LOC website on June 26, 2001, in honor of the birthday of the famed Atlantic City Boardwalk.
On the Boardwalk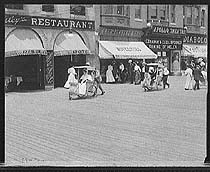 On June 26, 1870, the first section of the Atlantic City Boardwalk opened along the New Jersey beach. Dr. Jonathan Pitney and civil engineer Richard Osborne began developing the area on Absecon Island in 1850. Long before this time though, the Lenni-Lenape tribe were the first seasonal visitors to enjoy the summer splendor of the island.
Beautiful beaches, fresh sea air, luxurious hotels, fine restaurants, alluring shops, and a connecting railroad line from Camden, New Jersey drew visitors from all over the world. Atlantic City soon became a popular summer resort and winter health spa.
Alexander Boardman, a railroad conductor, conceived the idea of constructing a boardwalk as a means of keeping sand out of the railroad cars and hotels. The city used its tax revenues to build an eight-foot-wide temporary wooden walkway from the beach into town which could be dismantled during the winter.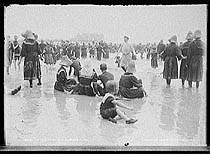 The rolling chair, introduced in 1884, was the only vehicle allowed on the Boardwalk, which was soon extended by enormous amusement piers such as Steel Pier, visible in the background of the photograph above.1
Any consideration of the boardwalk demands at least a nod to salt water taffy, a favorite beach-side treat. Taffy is a candy made of corn syrup and white sugar: the boiled confection is pulled and folded, then rolled into a long strip from which shorter (about two inch long) strips are cut, wrapped in stick resistant paper, and sold. Along the Atlantic City Boardwalk folks have purchased the product since at least the early 1880s. In presenting its opinion on a case concerning the right to label one's product the "original" salt water taffy, the Supreme Court long ago held that no one company might claim that right as salt water taffy, ". . . is born of the ocean and summer resorts and other ingredients that are the common property of all men everywhere."
Early bathers wore bathing dresses of wool flannel with stockings, canvas shoes, and large straw hats. The more daring bloomer suits and stockings worn by these bathing beauties were not introduced until 1907. Censors roamed the beaches monitoring bathers' self-exposure and looking for offenders who showed more flesh than the local code allowed.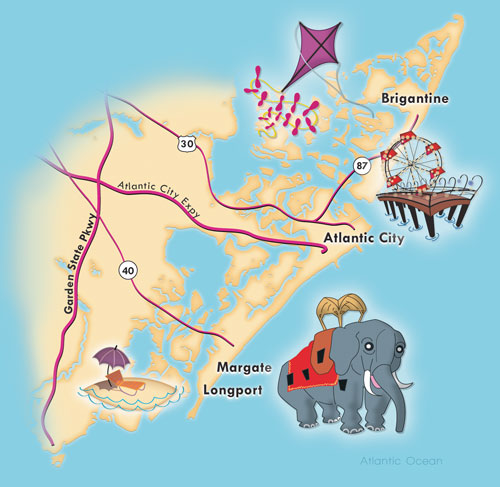 Information provided by http://www.atlantic-county.org